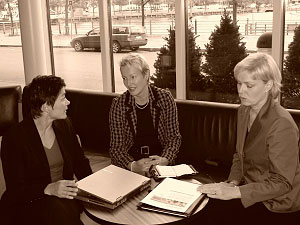 Once upon a time there were three translators all working in different places. In the late 1990s they met at the annual translators' conference arranged by the Swedish Association of Professional Translators, SFÖ, and found they got along so well that they decided to work together. They began reading and editing each others' translations and discovered that the quality of their translations improved and customers became even happier than before. Working together was also a lot more enjoyable!
In 2001 the translator trio cemented their collaboration into an official team under a registered trademark – FinnTeam Translations™. Soon after, the team's first joint website went on line.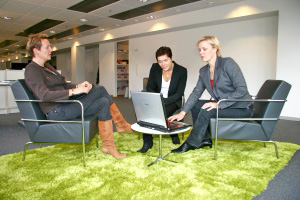 We get together 2–3 times a year to plan our operations and also take in a bit of entertainment or culture. We've been to a spa, visited a series of art museums and taken courses in watercolours and improvisation. Sometimes we even find the time to visit a few shoe shops …
The team has become so important to all three of us that none of us can imagine working alone again. Our daily contact via the Internet gives us all strength when the workload is heavy. Terminology problems and other stumbling blocks are easier to solve through a group effort.
United we stand!